Special campaign
For three years, from 2013 to our departure for this trip, we were involved with the undocumented Latino population in Vermont. As part of the staff at the Open Door Clinic, a small, non-profit, volunteer-staffed, free health clinic for the uninsured and under-insured in Addison County, I heard stories, stories, stories, and more stories that touched my heart.
Currently, more that 60% of the ODC's patient population are Mexicans and Guatemalans who work primarily on dairy farms, supplying two of Vermont's most yummy industries: ice cream and cheese.
Most of the patients can't speak English, and few of the volunteer medical providers communicate in Spanish. Therefore, the clinic is lucky to count on volunteer interpreters – Nate included – who donate their time and language skills so that appointments and exams take place smoothly.
Spending time with the Mexican community made us deeply want to experience Mexico. The stories we heard, the food we tasted and the friendships we made are essential fuels for our journey.
As we are going the opposite direction Mexicans, Central and South Americans go to cross the border pursuing the American dream, we challenge ourselves to raise US$ 1 per km we travel to be donated to the Open Door Clinic.
How many km would you like to cover? Click on the logo below to donate and be part of our journey!
¡Muchas gracias!
Campanha especial
Por três anos, de 2013 até nossa viagem pelas Américas ter início, estivemos envolvidos com a população de latino-americanos indocumentados de Vermont. Como parte da equipe da Open Door Clinic, uma clínica pequena, gratuita, sem fins lucrativos e que conta com o suporte de voluntários incríveis para atender quem não tem como bancar o sistema de saúde privatizado dos Estados Unidos, escutei histórias, histórias, histórias e mais histórias que me tocaram profundamente.
Mais de 60% dos pacientes da clínica são mexicanos e guatemaltecos que trabalham principalmente em fazendas leiteiras, suprindo duas das indústrias mais saborosas de Vermont que satisfazem paladares ao redor do mundo: a de sorvete e a de queijo.
A grande maioria dos pacientes não fala inglês, bem como poucos são os médicos, enfermeiros e demais voluntários da área de saúde que se comunicam em espanhol. Por isso, há dezenas de intérpretes – entre eles, o Nate – que doam seu tempo e habilidades linguísticas para que consultas e exames aconteçam sem percalços.
As histórias que escutamos, as comidas que experimentamos e as amizades que fizemos são grandes inspirações pra essa nossa jornada. Viajamos em sentido oposto ao dos mexicanos, centro e sul-americanos que cruzam a fronteira em busca do sonho americano. Indo do norte ao sul das Américas, nosso desafio é arrecadar US$ 1 por quilômetro viajado. Tudo será doado diretamente para a Clínica Open Door.
Quantos quilômetros você pode financiar? Clique no logo abaixo pra doar e faça parte dessa jornada!
¡Muchas gracias!
Amazing Donors | Doadores Maravilhosos
Abby Shepard + Clement Palisson (3x)
Ana Vitória Poiano Stella
Andrew + Katryna Snow
Barbara Ekedahl
Bob Cloud
Bruno Aragaki
Carlos Canhisares
Carol + Thomas Wells
Carolina + Arnaldo Moretti
Carolina Barboza Santos
Chris Cartwright
Christopher Pellegrini
Daniel Milazzo + Sarah Sanchez
Daniela Arai
Daniela Medeiros
Deborah Lubar (2x)
Dee Dee Cartinelli
Diana Clark
Dina + Hideo Lida Kinoshita
Diogo Pereira
James Eberhardy + Sumra Sage
Jim + Chris Runcie
John Fiorenza + Juliana Kaminome (2x)
Jori Jacobeit
Julia Solomon
Juliana Goto + Alexandre Yui
Erin Buckwalter + Michael Shepard (2x)
Faith Beltz
Flora Thomson-DeVeaux + Paula Scarpin
Gabriela + Paulo Abbud Schafer
Gabriela Sylos
Gisele Akemi Kohata
Jaime Oide
Janio Maia
Jason + Katie Barry
Kathleen Wilson
Kristi Kilpatrick
Laila Midori
Leandro Marino
Lewis Holmes
Lou + Ferne Faivre
Lucia Paiva
Luciana Peruzzo + Rudi Kokubo
Luiz Fujita Jr.
Maíra Kanemoto
Marcia Liotard
Marcia Nakaharada
Margaret Jackson
Margarida + Takeo Kokubo
Maria Bernardes
Maria Modica-Snow + Richard Snow
Marina Acciaris
Nicholas Brightman + Sadie Danforth-Brightman
Open View Gardens & Kitchen
Nicole Schmitz
Paula Higa
Rafael Ferreira
Rafael Tesima
Rebeca Komukai
Roberto Moregola
Rotary Club of Middlebury
Seidji Kokubo
Steve Overell
Susan Stone (2x)
Tamy Miura + Rodrigo Nemoto
Tatiana Adachi
Tatiane Almeida
Terry Naumann
Thomas Laussermair
Tiago Segantini
Victor Yudji Nakaharada Kokubo
Fundraising Raffle | Rifa do Bem
Organized by wonderful cousin Renata Sousa, who donated two electric pans | Organizada pela prima maravilhosa Renata Sousa, que doou duas panelas elétricas
Thank you to everyone who bought a raffle name! | Agradecemos a todos que compraram uma rifa!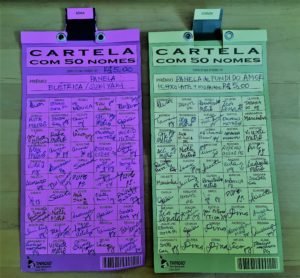 Compradores da rifa da panela elétrica para sukiyaki (R$5):
Alessandra
Alex
Ana Júlia
Ana Silvia
Analuiza
Angela
Armando
Tia Aurora (2x)
Cida
Tia Clarice Noda (2x)
Edith
Eduardo
Elisa
Gaia (2x)
Gi
Ingrid
Izabel
Jô
José Pellozo
Leco (2x)
Tia Linda
Luciana
Mônica
Nath
Tia Neuza
Paula
Puig (2x)
Rafa
Renato Bassili
Renato Roma
Rita
Rodrigo César
Rodrigo Matsumoto
Salete (2x)
Sandra GNG (2x)
Shirley
Talita/Renan (4x)
Tamara
Thieme
 Vicente
Compradores da rifa da panela de fundi do amor (R$5)
Alê
Alessandra
Alex
Tia Aurora (2x)
Amanda
Ana Júlia
Ana Silvia
Analuiza
Angela
Cida
Eduardo
Elisa
Dina (4x)
Dorival (2x)
Gaia (2x)
Gi
Jô
José Pellozo
Leco
Ludimila
Marcinha (2x)
Mônica
Nath
Tia Neuza
Puig (2x)
Tia Renata (2x)
Renatinho (2x)
Renato Bassili
Renato Roma
Rodrigo César
Rodrigo Matsumoto
Salete (2x)
Sandra GNG (2x)
Shirley
Tamara
Tatiana
Vicente
Vó Renan